Toll Free # 1-800-752-2581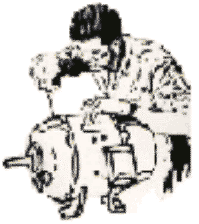 We Offer Complete Satisfaction On All Workmanship

We Are Family Owned & Operated Since 1930,

Dependable Service You Can Count On. We Do

Rewinding, on 1/4 to 500 Horsepower Motors.

The Full Service Electric Motor Repair Center At

Delta Armature Works Is Able To Handle Virtually

Any Electric Motor Repair Situation That May Occur.

We Maintain A Complete Inventory Of Bearings,

Fan Blades, Couplings, Pulleys & New Motors

And Replacement Parts For Immediate Service

Of Your Electric Motor And Other Specialized

Electric Motors And Mechanical Equipment.

406 Forest St. Yoakum , Texas 77995